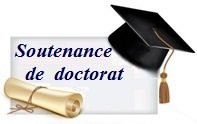 Candidates may only apply to defend their doctorate at the end of the 3rd year after their first registration (MESRS Order No. 191 of 16/07/2012) .
Defense procedure :
1- Defense Requirements:
Minimum of four (4) registrations.

Favorable report from the thesis director.

Publication in a reputable journal.
2- Composition of the jury:
Four (4) to six (6) members, specialists in the field of the thesis subject, with the rank of Professor or Associate professor (senior lecturer) class A or Accredited Research Director or Accredited Researcher class A.

One or two members of the jury must be from outside the registering institution, chosen for their expertise in the field relevant to the topic.

Examiners must not be co-authors of publications with the doctoral candidate.
3- Defense file:
Request for defense authorization, signed by the thesis director ;

A favourable report from the thesis director ;

A copy of the thesis ;

A detailed summary of the thesis ;

Copies of publications and communications ;

Jury proposal ;

Copy of the last registration certificate.
Download the forms concerning the thesis defense :
Defense Authorization Request Form

Download here

Jury Evaluation Report Form

Download here

President's Feasibility Report Form for the defense

Download here

Announcement of Defense Form filled out by the Doctoral Candidate

Download here

Annex 1 : Report on the Publication, its Environment and its relevance to the Thesis

Download here

Annex 2 : Doctorat LMD expert assessment form

Download here